Boat Parade and Blessing Sponsors - The 54th Annual Blessing of the Fleet
Sunday, April 3, 2022
Description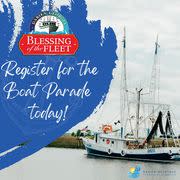 Come join us for the 54th Annual Blessing of the Fleet at the historic Downtown Darien Waterfront. Watch as our local Fishermen parade their vessels down the Darien River to the Darien Bridge to receive blessings for a safe and prosperous shrimping season. Commercial Fishing continues to be the backbone of our great community, so please come out and show your support for this great cause.
Sponsors
Friend of the Fleet
Darien Animal Hospital
Earle J. Duncan Attorney at Law
First GA Hardware & Marine, Inc.
Associate Sponsor
Support Sponsorship
Support Sponsor + Boat Sponsor
Support Sponsorship (In-Kind)
Skippers Fish Camp
Spartina Grill
Pricing
$300 - Friend of the Fleet - Your sponsorship donation goes directly to the fuel incentives and prizes given to the Shrimpers of McIntosh County who participate in the Blessing of the Fleet Festival. Your business logo or name(for individuals) will be on a Special Banner that Recognizes the Friends of the Fleet. You will receive 2 One-Time Entry Passes to be used to attend the day of your choice on Friday or Saturday, 4 Alcohol Tickets, Access to the Sponsorship Tent on the Waterfront Lawn (limited to 4)
$500 - Associate Sponsor - Recognition on Social Media, Logo on Website, Logo On Sponsorship Banner, 4 One-Time Entry Passes to the Festival, 10 Alcohol Tickets, Access to the Sponsorship Tent on the Waterfront Lawn (limited to 8)
$1000 - Support Sponsorship: Recognition on Social Media, Logo on Website Event Page, Complimentary Booth Space, Float Registration Waived for Parade, Logo on Sponsorship Banner, 6 One-Time Entry Passes, 2 VIP Lounge Badges (all-weekend access), 10 Alcohol Tickets, Access to the Sponsorship Tent on the Waterfront Lawn (limited to 10 wristbands)
$1500 Support Sponsor + Boat Sponsor: Recognition on Social Media, Logo on Website Event Page, Complimentary Booth Space, Float Registration Waived for Parade, Logo on Sponsorship Banner, 8 One-Time Entry Passes, 2 VIP Section Badges (all weekend access), 10 Alcohol Tickets, PLUS $300 of your sponsorship goes directly to the fuel incentives and prizes given to the Shrimpers of McIntosh County who participate in the Blessing of the Fleet Festival. Special Banner Recognition for Friends of the Fleet, Access to the Sponsorship Tent on the Waterfront Lawn (limited to 12 wristbands)

$3000 - Partner Sponsorship: Recognition on Social Media, Logo, and Name on Website Event Page, Complimentary Booth Space, Float Registration Waived for Parade, Logo on Sponsorship Banner, Verbal Recognition at Event and on Radio, Thank you on the Press Release, month of free advertising on digital billboard 10 One-Time Entry Passes, 4 VIP Section Badges (all weekend access), 20 Alcohol Tickets, Access to the Sponsorship Tent on the Waterfront Lawn (limited to 20 wristbands)
$5000 - Title Sponsorship: Your very own banner! Recognition on Social Media, Premier billeting on Website Event Page, Complimentary Booth Space, Float Registration Waived for Parade, Verbal Recognition at Event and on Radio, Thank you on the Press Release, month of free advertising on digital billboard 16 One-Time Entry Passes, 8 VIP Section Badges (all weekend access), 30 Alcohol Tickets, Access to the Sponsorship Tent on the Waterfront Lawn (limited to 25 wristbands)
Darien River

Event Contact
Alexandra Smetana